ingredients
for the cupcakes

loosely packed brown sugar

1 1/3 cups

Egg

1

• 130 kcal

pure vanilla extract

2 tsp

butter, melted and cooled

1/2 cup

sweet potatoes, cooked and mashed

6 ounces

All-purpose flour

1 1/4 cups

Baking soda

1 1/4 tsp

Cinnamon

1/2 tsp

Nutmeg

1/4 tsp

Whole Milk

1/4 tsp
for the frosting

butter at room temperature

1/2 cup

Vanilla Extract

1 tbsp

Marshmallow fluff

1 1/2 cups

Powdered sugar

3 cups
Calories refers to 100 gr of product
If you love sweet potato pie (and who doesn't?), these sweet potato pie cupcakes will blow your mind. These light, airy treats are the cupcake version of sweet potato pie, a classic Southern recipe with roots in the African American community.
These wonderful cupcakes are incredibly moist and tender, with irresistible, light spiced sweet potato cupcakes set over a graham cracker crumb crust and topped with a fluffy, delicious marshmallow frosting. Sweet potato pie cupcakes are super easy to make and are a showstopping dessert you can serve at Thanksgiving or any of your fall or winter parties.
How to Make Sweet Potato Pie Cupcakes
Ready to get baking? This is how to make perfect fluffy and moist sweet potato pie cupcakes. Start by lining a muffin pan with cupcake liners, and preheating your oven to 350F. Make the pie crust by tossing the butter, sugar, and graham cracker crumbs in a bowl, then pressing about 1 tablespoon of the mixture into the bottom of each liner.
Now it's time to make the cupcakes! Beat the egg and sugar until totally smooth, then whisk in the vanilla, butter, and sweet potato. Add the dry ingredients to the sweet potato mixture, then pour in the milk and whisk until the batter is perfectly smooth. Pour the batter into each liner and bake the cupcakes for 15 to 17 minutes. Let them cool completely before frosting them. Once the cupcakes are room temperature, frost them with the marshmallow frosting and garnish with crushed toasted pecans.
How to Serve Sweet Potato Pie Cupcakes
Decorate your sweet potato pie cupcakes with a delicious marshmallow crème frosting. This will give you the most authentic sweet potato pie flavor. If you prefer, you can use a buttercream, meringue, cream cheese frosting. The choice is yours!
Sweet potato pie cupcakes should be served at room temperature. The cupcakes need to cool completely before they can be frosted. Refrigerating them can make them dry, so room temp is best.
Tips for the Best Sweet Potato Pie Cupcakes
The main difference between these delicious cupcakes and sweet potato muffins is that muffins typically have a denser texture and usually aren't frosted. Cupcakes are soft, airy, and light.
If your frosting is too runny, add more powdered sugar. If it's too thick, add a teaspoon of milk at a time until it reaches your desired consistency.
Use your preferred gluten-free flour if you want to make a gluten-free version of these tasty cupcakes. Not all marshmallow fluff is gluten-free so check the label to make sure you pick up one that is in keeping with your diet.
To make keto-friendly sweet potato muffins, swap out the sugar for sweetener, use almond flour or coconut flour in place of regular flour, and leave out the marshmallow fluff from the frosting.
If you're looking to make vegan sweet potato pie cupcakes, use applesauce or silken tofu instead of egg, coconut oil or vegetable oil instead of butter, and plant-based milk instead of cow's milk.
If you have a kitchen blowtorch, you can lightly toast the marshmallow topping before serving the cupcakes.
How to Store Sweet Potato Pie Cupcakes
Transfer your cupcakes to an airtight container and store them at room temperature for up to 2 days. You can keep them in the fridge for up to 5 days, but they might dry out slightly.
Instructions
Preheat your oven to 350F. Line a muffin tin with cupcake liners.
Toss butter, sugar, and graham cracker crumbs in a small bowl until the crumbs are moistened.
Add 1 tablespoon of the crust mixture into the bottom of each cupcake liner.
Press the crust.
You should have a thin layer for your crust.
In a large bowl, beat egg and sugar until smooth.
Beat in the vanilla and butter.
Add in the sweet potatoes.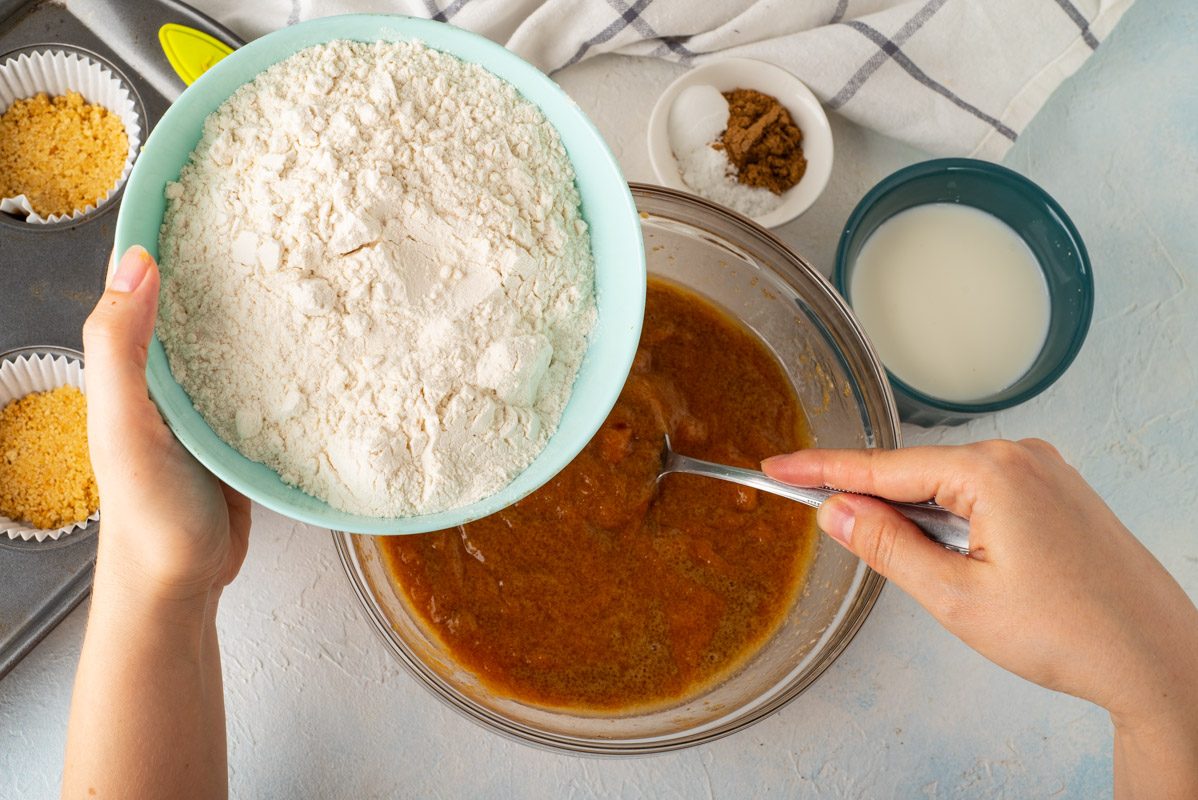 Sift in the flour.
Add in the baking soda, salt, cinnamon, and nutmeg.
Pour in milk.
Whisk until smooth.
Pour ¼ cup batter into each liner.
Spread the batter evenly.
Bake for 15 to 17 minutes. Remove from oven and leave to cool completely.
For the frosting, beat butter until creamy.
Beat in marshmallow crème, and continue mixing until well incorporated, then beat in the vanilla.
Gradually add in the powdered sugar until fluffy.
Frost the cupcakes.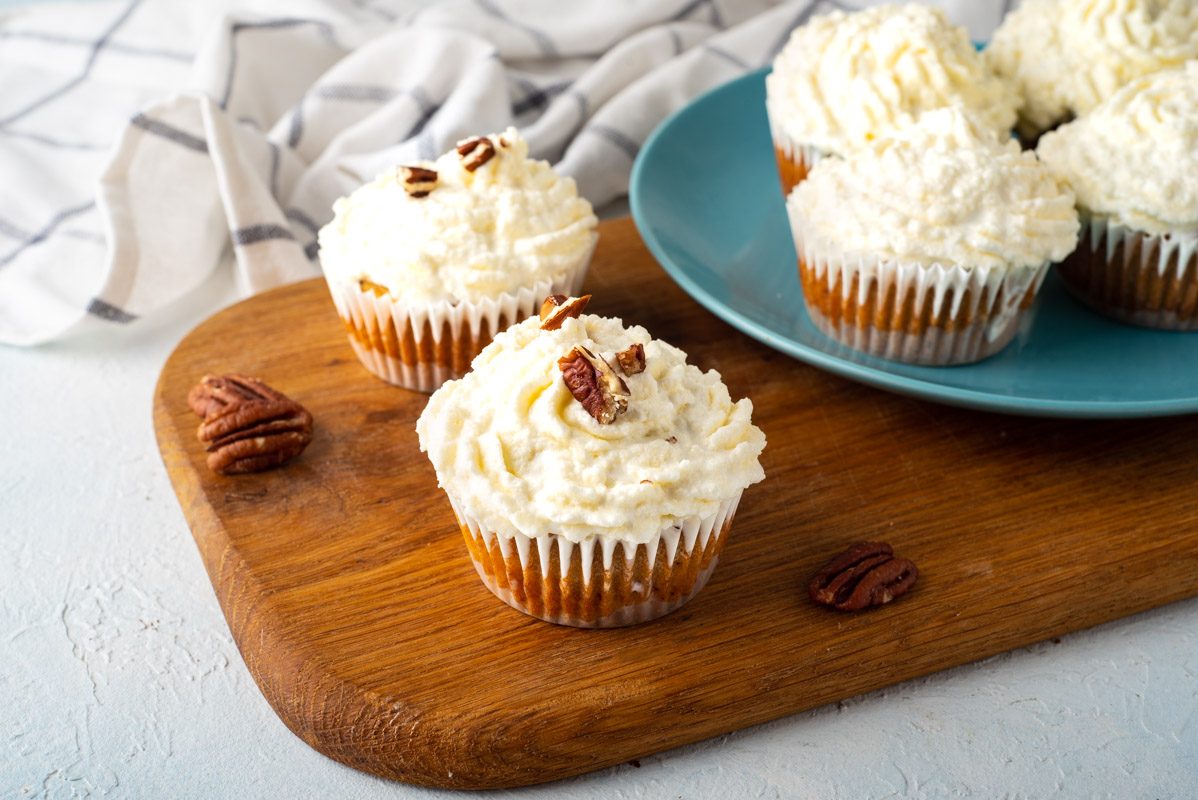 Garnish with crushed toasted pecans. Serve and enjoy!
Notes
Use room temperature ingredients to make your cupcakes. They'll blend more easily and help prevent you from overworking the batter.