ingredients
for the brownie

Vegetable Oil

1/4 cup

Egg

1

• 130 kcal

Sugar

1/2 cup

• 470 kcal

Vanilla Extract

1/2 tsp

Cocoa powder

1/6 cup

Cream

1/4 cup

Flour

1/4 cup

Baking powder

1/4 tsp

• 156 kcal

Salt

a pinch

• 1 kcal

for the cheesecake

Cream Cheese

720 g (25 oz)

Sugar

3/4 cup

• 470 kcal

Eggs

3

• 130 kcal

Vanilla Extract

2 tsp
for the ganache

Dark Chocolate

180 g (6 oz)

hot cream

1/2 cup
Calories refers to 100 gr of product
Just when you think fusion desserts cannot get any better, there's this Brownie Bottom Cheese. Made with a brownie base, a creamy cheesecake filling, and a chocolate ganache…this is the dessert dreams are made of—perfect for all the chocolate lovers out there. This layered dessert is creamy, rich in chocolate flavor, and super indulgent. A brownie base adds just the right amount of texture with the cream cheese filling and ganache topping.
You will need a few pantry staples, as well as cream cheese, chocolate, and cream. When it comes to desserts, you won't find anything better than this. Make it next time you have guests over and see them coming back for more.
Brownies Bottom Cheesecake Ingredients
Brownie base: typical brownie base ingredients are used. The vegetable oil keeps it moist. If you want a less acidic cocoa flavor, use Dutch cocoa.  You should also use full-fat cream for best results. Don't forget the pinch of salt, it brings out the sweetness!
Cheesecake: use full-fat cream cheese…this is not a low-fat dessert! We always prefer Philadelphia cream cheese.
Ganache: We use dark chocolate in this recipe, but you can also use milk chocolate, or if you like sweet desserts, you can use white chocolate.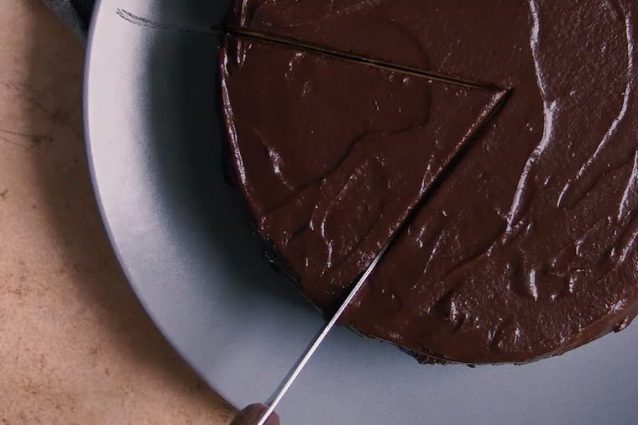 How To Make Brownie Bottom Cheesecake
The Brownie Bottom Cheesecake is made up of three components: the brownie base, the cheesecake filling, and the chocolate ganache topping. The brownie base is made by mixing the dry and wet ingredients and baking it until golden. If you want, you can also use a boxed brownie cake mix.
The filling is made by whipping the cheesecake ingredients until smooth. This filling is poured onto the base and smoothed using a spatula. Then baked. The topping is an easy chocolate ganache made by melting chocolate and cream together. The ganache is drizzled over the cheesecake, left to cool, and then served.
Tips
For a lazy, short-cut version, use a brownie cake mix for the brownie layer! And use a cheesecake box mix for the filling.
Make a keto-version of this Brownie Bottom Cheesecake by using almond flour instead of flour, and using erythritol instead of sugar.
For best results, use Philadelphia cream cheese.
To make a no-bake version of this Brownie Bottom Cheesecake, follow these tips. For the cheesecake filling: mix 1 cup heavy cream, ¾ cup sugar, 8 oz cream cheese, ½ cup water, and 1 tbsp gelatin powder. For the brownie base: mix together 5.3 oz biscuits and 1/4 cup of melted butter, and press into the cake pan.
Make this Brownie Bottom Cheesecake into small "bars". Follow the recipe, but instead of a round springform cake tin, use a rectangular tin, and once the cheesecake has been set, slice it in bars.
How To Store And Freeze Brownie Bottom Cheesecake
The Brownie Bottom Cheesecake can be stored in the refrigerator (in an airtight container) for up to 5 days. Or you can store it in the freezer.
If you want to freeze it, allow the cheesecake to cool completely (slice if you want to freeze it in individual slices). Place it in the freezer for one hour. Then, wrap it tightly with plastic wrapping, and a layer of foil and store for up to 3 months.
More Recipes You'll Like
Instructions
Preheat oven to 180 C (350F). Cover the bottom of 20 cm (8-inch) round cake pan and grease the sides of it. Mix the dry ingredients for the brownie in a mixing bowl.
Then add the wet ingredients and mix to form a batter.
Pour brownie batter into prepared pan and spread it evenly. Bake for 10 minutes and let cool down completely.
For the cheesecake part, combine all of the listed ingredients until smooth.
Pour the cheesecake filling over the brownie layer. Bake at 170°C (325°F) for 50 minutes. Remove cheesecake from the oven and let cool down completely.
Cover dark chocolate with hot cream and stir until smooth ganache forms. Pour chocolate ganache over the cake, smooth it out with a spatula and let set in the fridge for a little bit before slicing.
Notes
Want more texture? Add chocolate chips, pecan nuts, or walnuts to the brownie batter. If you like fruity brownies, add strawberries, or if you like peanut butter, you can add peanut butter to the cheesecake filling.