ingredients
Buttermilk

1/2 cup

Hot sauce

1 tbsp

Whole chicken breast

1

Flour

1/2 cup

dry parsley

1 tsp

Mustard powder

1 tsp

Garlic powder

1/2 tsp

Paprika

1/2 tsp

pepper and salt

1/2 tsp

Chili powder

1/2 tsp

Burger buns

4
Burgers are perfect for the weekend. Quick and easy to make, and you can add any ingredients you like. These crispy Chicken Burgers are everything you'd expect them to be: crispy on the outside, and juicy and moist on the inside. You don't need to buy pre made chicken patties. By butterflying and tenderizing the chicken breast, your chicken burger will taste better than any takeout version you ever had. Add a few sesame seed buns, fresh lettuce, and a creamy, flavorful pink sauce…and you're good to go. Here're how to make at home the most delicious and loved burger ever!
How to make Chicken Burger
This Crispy Chicken Burger is super easy to make. The chicken breasts are first butterflied and then dredged in buttermilk and a spiced flour mix. They're fried in medium-hot oil until golden brown and cooked through. Serve the crispy chicken patties with a fresh bun and chopped lettuce, together with the homemade sauce.
Tips for Crispy Chicken Burger
– There are a few ways to make this Crispy Chicken Burger a bit healthier in different ways. You can substitute the buttermilk with reduced-fat Greek yogurt. Use wholemeal flour instead of plain white flour. Bake the chicken patties instead of frying them. Place the dredged chicken breast on a baking tray and bake at 220°C/425°F for 30 minutes, or until the chicken is cooked through.
– Instead of dredging and frying the chicken, why not go for a Grilled Chicken Burger. Simply rub the butterflied chicken breast with a spice rub and grill in the oven until cooked through.
– To make this Crispy Chicken more gourmet, add any of the following ingredients: caramelized onions, tomatoes, coleslaw, fresh red onion, avocados, and even cooked mushrooms.
– Make a delicious sauce to go with your burger. Try the Pink sauce: 3 tbsp hot sauce, ½ mayonnaise, ¼ cup yogurt. You can also serve this burger with a Green sauce: 4 tbsp , 1 crushed garlic clove, 2 tbsp chopped cilantro (or basil), salt, and pepper.
Use any of your favorite seasonings: Old Bay seasoning, Cajun spice, or even plain salt and pepper.
What to serve with Chicken Burger
Serve these crispy chicken burgers with crispy fries, potato chips, or a side salad.
How to store Homemade Chicken Burger
The dredged chicken patties can be stored in the fridge for up to 3 days.
Instructions
Slice chicken breast in two halves and cut each half in half again lengthwise to make two thick cutlets.
Combine buttermilk with the hot sauce and mix.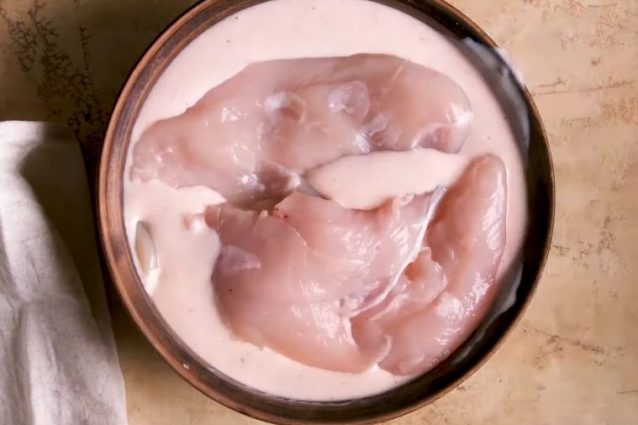 Submerge chicken cutlets in the mixture. Marinade for 1 hour.
Whisk flour with salt, pepper and other spices listed.
Take each chicken piece out of the marinade, shake off any excess, and dredge in flour.
Dip in buttermilk again.
Cover with flour before putting in preheated (180°C/350°F) vegetable oil.
Cook each chicken cutlet for 6-8 minutes, flipping halfway through.
Place the fried chicken patties on a burger bun.
Top with lettuce.
Serve in a burger bun with your favorite sauce and shredded lettuce.
Notes
– Want to make a low-carb version of the crispy chicken burger? Use lettuce instead of buns to wrap your chicken patties.
– If you like a crispier burger, use Panko bread crumbs with the flour.
– If you are using large chicken breasts, flatten them with a meat mallet before dredging to ensure even cooking.