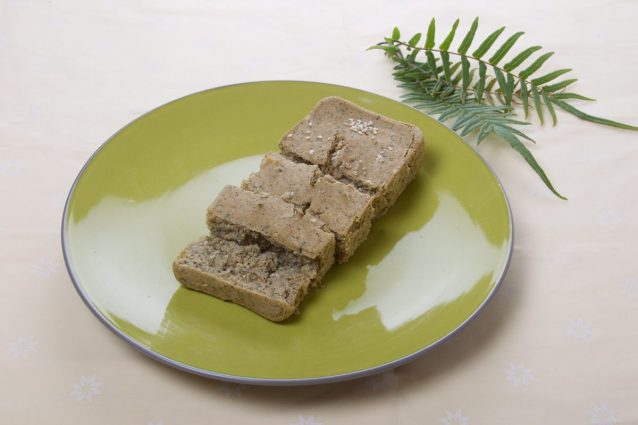 ingredients
Water

¾ cups

Oatmeal flour

1 cup

Chickpea flour

½ cup

Baking powder

1 ½ tbsp

• 156 kcal

Vinegar

2 tbsp

Garlic powder

Sesame seeds

to decorate

Salt

• 1 kcal

Pepper
Calories refers to 100 gr of product
Even been a veggie loaf the next recipe is for making a good bread for any taste and any occasion. It is so delicious and soft and can be accompanied with your favorites food. If you are veggie you can fill it with tomatoes, carrots, radishes, cucumber, avocado or sauté eggplant. Or if you do not follow any nutrition regimen, you can fill it with your favorite cheese, or any meat, fish or chicken prepared in your favorite way. Accompany it with delicious sauces and dressings and you will enjoy a perfect sandwich. This loaf is so easy to prepare and it has a quick baking process, quicker than other loaf. Make this bread and enjoy your favorite sandwich in your own homemade loaf.
Instructions
In a medium bowl, first sift chickpea flour and oatmeal flour. Sift also salt, baking powder, pepper and garlic powder. When all the dry ingredients are already added, mix them very well.
Add now the water little by little while stirring everything to integrate. Then add the vinegar while stirring. A dense dough instead of a liquid mass must be obtained. Stir very well until the mixture has no lumps. In this step you can add parsley, oregano, rosemary or any herb of your liking.
Even a little salt in grains. Put the mixture in a rectangular baking dish, cover the mold with oil and preheat the oven to 250 F. Place some sesame seeds on top to decorate. Bake for about 20 minutes. Let it cook for about 5 minutes over the heat. Wait until the bread is cold to unmold and cut Finally you can enjoy the bread. As a suggestion, you can cut it in halves and toast each half so that it is crispy, or fill it as your favorite sandwich.
Nutrition Facts Servings: 3 Amount per serving   Calories 257 % Daily Value* Total Fat 8.9g 11% Saturated Fat 1.2g 6% Cholesterol 0mg 0% Sodium 72mg 3% Total Carbohydrate 37.7g 14% Dietary Fiber 8.9g 32% Total Sugars 4g   Protein 10.5g