ingredients
For the fried shrimp

Kosher Salt

3 tsp

Paprika

2 tsp

Garlic powder

1 tsp

Cayenne pepper

1/2 tsp

Black pepper

1/2 tsp

raw shrimp, peeled, deveined, and tail removed

2 pounds

All-purpose flour

1 ½ cups

Cornmeal

1 cup

Buttermilk

1 cup

Hot sauce

3 tbsp

Oil for frying

For the remoulade sauce

Mayonnaise

1 cup

dill pickle relish

2 tbsp

Fresh lemon juice

1 tbsp

Hot sauce

2 tsp

capers, roughly chopped

2 tsp

Paprika

1 ½ tsp

Dijon mustard

1 tsp

Worcestershire Sauce

1 tsp

Garlic, minced

2 cloves
To assemble

8-inch long loaves split horizontally

4

shredded iceberg lettuce

sliced tomatoes

dill pickles, to garnish
With its crispy, flavorful battered shrimp, crunchy lettuce, tangy-spicy remoulade sauce, and tomato layered over thick, fluffy loaves of crusty bread, the Shrimp Po'Boy is one of the best sandwiches around. This famous, much-loved sandwich has origins in New Orleans during the early 20th century and remains one of the most popular and recognizable dishes in New Orleans' cuisine. The shrimp po'boy is a fantastic, hearty sandwich that's great for a delicious lunch or dinner.
What is a Shrimp Po'Boy?
The po'boy was first created in New Orleans. Often, it's made with seafood like crab, crawfish, catfish, oysters, or shrimp. There are also versions with roast beef. The sandwich is served on a crusty French roll and dressed with tomatoes, lettuce, pickles, and remoulade. The sandwich as we know it today comes from the Martins' Brothers French Market Restaurant, where in the early 1900s, streetcar workers went on strike and the brothers gave them free meals.
What to Serve with Shrimp Po'Boys
Keep things simple and serve your po'boy with a side of chips or fries, salads, and dirty rice go great with these tasty sandwiches.
How to Make Shrimp Po'Boy Sauce
To make the remoulade, combine all the ingredients in a mixing bowl, cover, and refrigerate until you're done cooking the shrimp.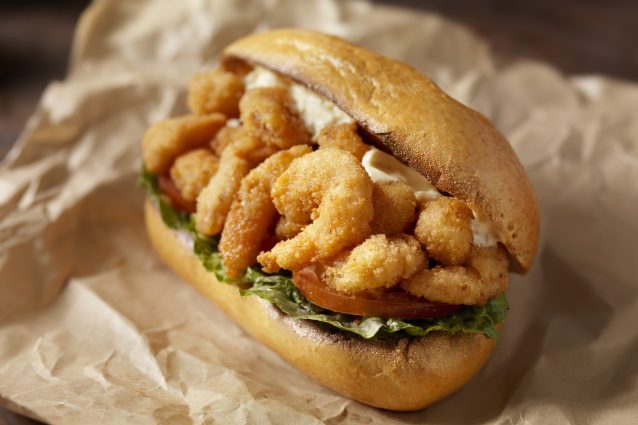 Tips for Making the Best Shrimp Po'Boy
– Look for medium to large shrimp for your po'boy.
– For a slightly healthier version of this sandwich, you can bake or grill your shrimp instead of frying them.
– French loaves are the gold standard for po'boys. The crunchy crust and soft inside are fantastic for these big, hearty sandwiches.
– Fry the shrimp in batches. If you overcrowd the Dutch oven, the shrimp won't cook properly.
– There are many variations of the po'boy sandwich. Other versions are made with fried catfish, crawfish, oysters, or crab. Once you've mastered the shrimp po'boy, try one of these tasty alternatives!
– If you like a thicker, crunchier coating on your shrimp, you can repeat the dipping process.
Can I Store Shrimp Po'Boys?
Shrimp po'boys are best eaten immediately. Leftovers can be stored wrapped in cling film in the fridge and eaten within 1-2 days.
How to Make a Shrimp Po'Boy
Whisk paprika, salt, garlic powder, cayenne pepper, and black pepper in a bowl to combine. Split the mixture in half. Add flour and cornmeal to one half of the mix, stirring to combine.
Toss the shrimp in the remaining spice mix.
In a medium-sized bowl, whisk buttermilk and hot sauce.
Dip the shrimp in the buttermilk, then transfer to the seasoned flour mixture. Once all the shrimp have been battered, refrigerate for 20 to 30 minutes.
Heat about 2 inches of oil in a Dutch oven. When the temperature hits 350°F, fry the shrimp for 3 to 4 minutes, or until golden brown, then set on a paper towel to drain. Repeat until all the shrimp are cooked.
Cut the loaves of bread in half. Spread the remoulade over the bread, then add the tomatoes, pickles, and lettuce, followed by the shrimp. Serve hot.
Notes
You can use any kind of hot sauce you prefer, but try Louisiana-style hot sauce for the most authentic flavor.
Use an oil with a high smoking temperature like vegetable, corn, or canola oil.