Simple ingredient swaps can help you transform your favorites into diet-friendly desserts.  Try these 13 delicious treats and still lose weight – you can have your cake and eat it, too!
1. Chocolate Crinkle Cookies
These 50-calorie crinkle cookies are great dipped into a cup of coffee or espresso to finish off a meal.
2. 7 Ingredient Blueberry and Lavender Vegan Cheesecake
How can a cheesecake be vegan? The secret in this recipe is all the cashews, coconut milk and coconut oil that are blended to make a creamy, delicious filling. The crust for the cheesecake is also made without butter, cream or flour.
3. Avocado Chocolate Pudding
This tasty and beautiful dessert has no added oil or refined sugar, using the natural sweetness of bananas and dates, and the oil of the avocados to create a pudding consistency. Serve with berries for an extra health boost.
Avocado chocolate pudding recipe
4. Blueberry and Yogurt Ice Pops
These are so simple to make, and beautiful to look at. They're made using yogurt so you could even take one out of the freezer for breakfast! They only have 150 calories per serving, so you can enjoy one guilt-free.
Blueberry and yogurt ice pops recipe
5. Chai, Raspberry and Coconut Porridge Slices
Rolled oats make a substantial and sweet snack when combined with non-dairy milk, maple syrup and fresh raspberries. The mixture is then baked in the oven, creating slices that are crunchy on the outside and chewy on the inside.
Chai, raspberry and porridge slices recipe
6. Chia Pudding
This healthy and low-cal pudding is reminiscent of traditional tapioca and sago puddings. After chia seeds are soaked overnight, they take on a jelly-like texture like tapioca. This chocolate chia seed pudding uses unsweetened cocoa powder, maple syrup, cinnamon and some vanilla extract. The calories in a serving of chia pudding are only 150.
Chocolate chia pudding recipe
7. Chickpea Cookie Dough
Chickpeas are full of protein, with 15 grams per cup. They're also high in fiber, which is good for blood sugar levels and helping you stay fuller for longer. This recipe is vegan, and also gluten-free. It can be used as a dip, or just eaten on its own with a spoon, like original cookie dough!
Chickpea cookie dough recipe
8. Dark Chocolate
Good quality dark chocolate with at least 80 to 85% cacao is full of health benefits. It can help in lowering blood pressure and cholesterol, and can even boost your mood.
9. Fresh Mango Berry Pops
Mangoes taste of summer, and if you've bought too many you can transform them into ice pops. Use any variety of fruit with mangoes, and add coconut water and agave nectar to make low-calorie, tropical flavored popsicles.
Fresh mango-berry pops recipe
10. Grilled Fruit
Grilling fruit unlocks the hidden sweetness, and works very well with stone fruits, such as peaches. Try pairing peaches with balsamic vinegar and mascarpone, or use maple syrup with warming spices such as cinnamon and cumin.
Grilled fruit recipe
11. Vegan Ice Cream
This cheat's ice cream is healthy and packed with protein. Made with only non-dairy yogurt, vegan protein powder and nut butter, it's almost as good as the real thing.
Vegan ice cream recipe
12. Yogurt Parfait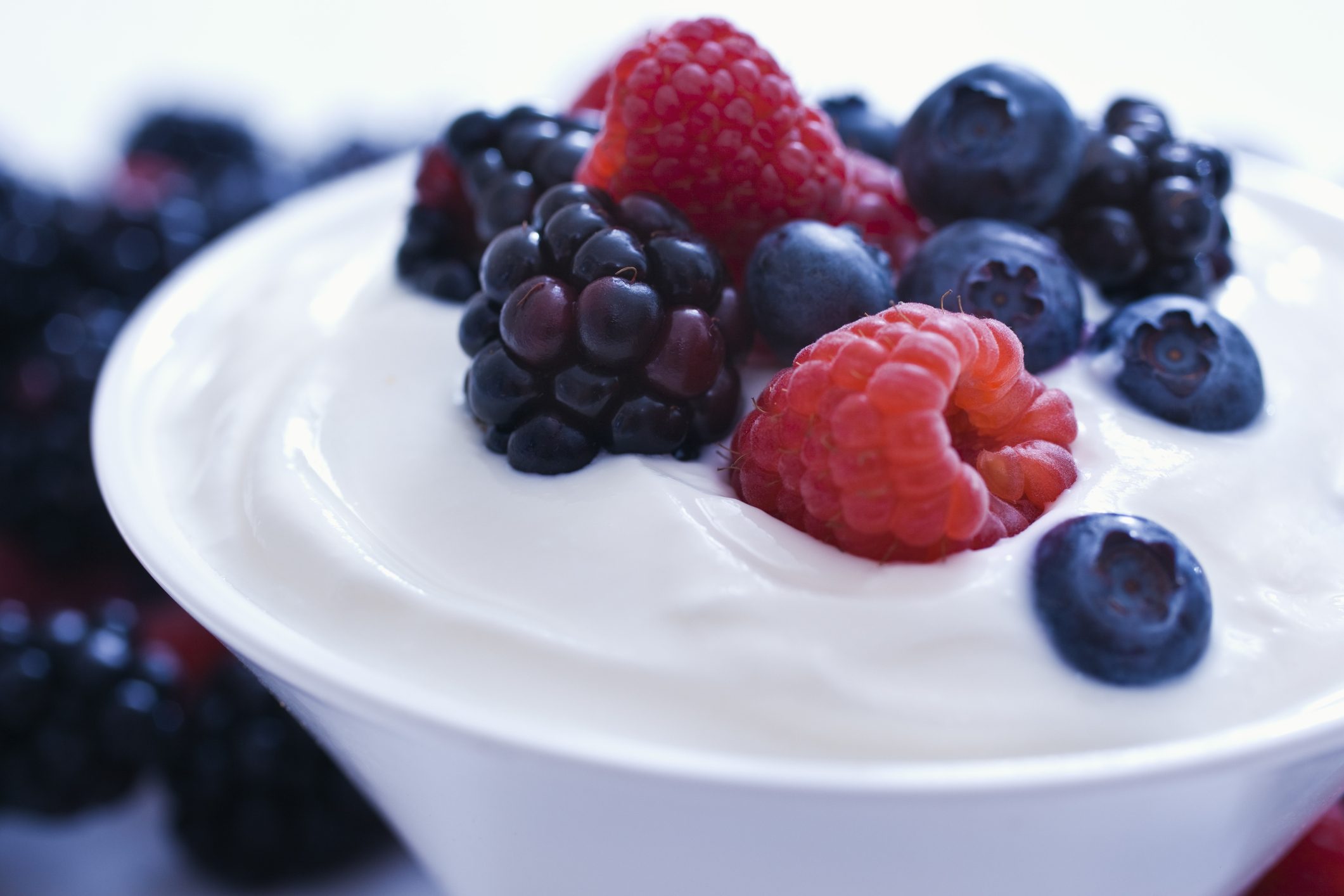 Instead of a calorie-laden ice cream sundae, this yogurt parfait has layers of fruit, crunchy granola, chia seeds, yogurt and a spoonful of preserves. Yogurt parfaits can be made in advance, so they are a good idea for breakfast.
13. Chocolate Dipped Strawberries
Dipping fruit in a thin layer of dark chocolate doesn't add many extra calories, but it can bring out flavors in the fruit that you wouldn't otherwise taste. Strawberries are a traditional choice for dipping, but experiment with other foods too.