ingredients
Large onion

1

Spinach leaves

2 cups

Cheese

6 slices

Eggs

6

• 130 kcal

Sour cream

1/4 cup

Bacon

4 slices

Black pepper

Salt

• 1 kcal
Calories refers to 100 gr of product
Crustless spinach quiche is a quick and easy recipe you can serve for breakfast, brunch or as a light lunch. This quiche is savory, healthy and rich in protein thanks to spinach, cheese and onion. Very easy to make, quiche looks like a frittata, but calls for more dairy like milk or sour cream to make the recipe softer and creamier than a classic frittata. You can customize this recipe for quiche without crust as you like and add your favorite ingredients. Serve crustless spinach quiche together with a savory side.
Tips for making Easy Crustless Spinach Quiche
– Don't overcook the quiche. The egg proteins help it stabilize in the oven, but at the same time make it watery. To prevent your crustless spinach quiche from being soggy, cook it slowly and remove it from the oven when it's still a bit wobbly, so it will finish setting thanks to the residual heat.
– For a keto spinach quiche, add ham, mushrooms, asparagus and your favorite kind of cheese like cheddar or feta.
– Make crustless spinach muffins by pouring the batter into a muffin tin and bake for about 25 minutes to 350°F.
– Serve crustless spinach quiche with garlic bread, dinner rolls, mashed potatoes, sauteed mushrooms or a light salad.
– Grease the baking dish before pouring in the quiche batter, otherwise it will stick to the bottom and sides.
– You can use frozen and thawed spinach instead of fresh one.
How to store Crustless Spinach Quiche
You can store crustless spinach quiche in an airtight container in the refrigerator for up a week. You can also freeze it, for up 3 months, wrapped in plastic wrap. Thaw the quiche and reheat it in the microwave for about a minute before serving.
How to make Crustless Spinach Quiche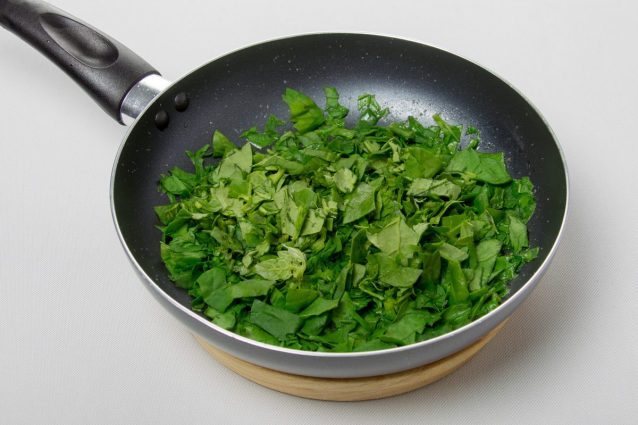 Wash the spinach very well, remove the stems and keep the leaves. Dry them with paper towels. Then chop them into small pieces. Peel the onion and cut it into brunoises, as small as possible. Cut the bacon into small strips.
Heat a non-stick pan, or the one you have and add a little oil, the bacon loses a lot of fat so it will not be necessary to add a lot of oil. Fried quickly in a little hot fat the bacon and onions. Then add the cut spinach. Cook for about 10 minutes, this will help the spinach leaves evaporate excess water and your quiche will have a firm consistency.
Grease the baking dish. In a bowl mix the cream with the eggs.
Add the mixture of spinach, onion, bacon and cheese.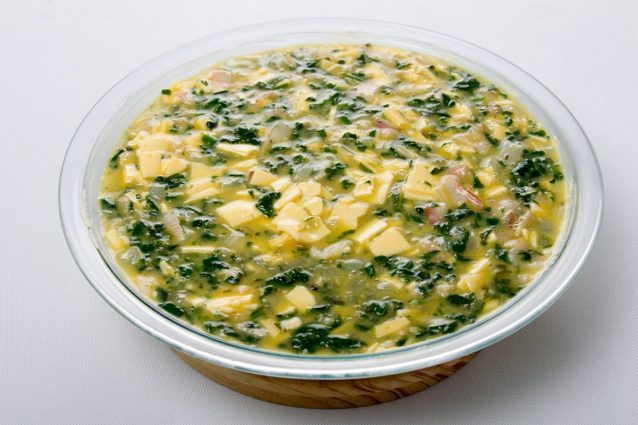 Pour the whole mixture on the baking tray, and top with more cheese.
Bake for about 25 minutes or until the quiche is golden brown on top. Let the quiche rest for 10 minutes, cut into slices with a sharp knife.
Notes
Use a baking dish at least 2 inches deep so you have a high, soft quiche.