ingredients
for the sweet potatoes

sweet potatoes, peeled and cut into cubes

2 1/2 pounds

butter, softened

4 tbsp

Whole Milk

1/2 cup

packed brown sugar

1/2 cup

Large eggs

2

Ground nutmeg

1/2 tsp

pure vanilla extract

1/4 tsp

salt to taste

for the topping

All-purpose flour

1/2 cup

Melted butter

4 tbsp

Chopped pecans

1/2 cup

packed brown sugar

1/4 cup

salt to taste
With its gorgeously creamy texture and crunchy, buttery pecan topping, sweet potato casserole is one of our favorite casseroles to whip up in the fall. It's a sweet, rich casserole that you can serve as soon as the leaves start falling off the trees, and it's a particularly delicious dish to serve as a part of your Thanksgiving dinner spread.
Sweet potato casserole is made with either fresh or canned sweet potatoes, plenty of butter, and milk which gives it that amazing creamy and smooth texture, a dash of spices, and sugar. The topping is made from chopped pecans tossed in brown sugar and melted butter. The pecan topping adds a fantastic crunch to the dish – it's the perfect foil to that creamy sweet potato base!
How to Make Sweet Potato Casserole
If you're looking for an easy dish to serve on Thanksgiving, sweet potato casserole is the ticket. It's fast and easy to make and tastes absolutely phenomenal. To make sweet potato casserole, preheat your oven to 350F and grease a casserole dish.
Simmer the sweet potatoes in a saucepan over low heat or 15 to 20 minutes, until tender. Drain and leave them to cool for several minutes. Once they've cooled down a bit, place the sweet potatoes and butter in a bowl. Mash them well, then stir in the milk, brown sugar, eggs, salt, nutmeg, and vanilla, and pour the mixture into your casserole dish.
For the topping grab a bowl and combine flour, butter, pecans, brown sugar, and salt in a bowl. Cover the sweet potatoes with the pecan topping, then pop the casserole in the oven and bake it for 25 minutes, or until the pecan topping turns lightly brown.
Can I Make Sweet Potato Casserole Ahead? 
You can make sweet potato casserole ahead of time. Prep and cook it up to 2 days before you plan on serving it. When you're ready to eat the casserole, reheat it at 350F until warmed through.
Tips for the Best Sweet Potato Casserole
You can swap our pecans for walnuts, almonds, or other types of nuts if you prefer. Alternatively, you can leave them out altogether go with a different topping like marshmallows and an oat streusel.
Make your life a little easier and use canned sweet potatoes instead of raw ones. Using canned sweet potatoes means you can skip the boiling step.
If you want to make vegan sweet potato casserole, use plant-based milk instead of regular milk, vegan butter or margarine in place of butter, and silken tofu instead of eggs. You can swap them in a 1:1 ratio.
If you love the warming baking spices that are common in fall recipes, add a dash of cinnamon or allspice to your sweet potato casserole.
Sweet potatoes are more common in the US, but if you prefer, you can use yams in your casserole instead.
How to Store Sweet Potato Casserole
Wrap or cover the casserole in cling film and store it in the fridge for up to 4 days.
More Recipes You'll Like
Instructions
Preheat your oven to 350F. Lightly grease a casserole dish with butter or cooking spray.
Put the sweet potatoes into a large pot with water and bring to a boil. Lower the heat and simmer for 15 to 20 minutes, until tender. Drain and allow the sweet potatoes to cool for several minutes, then transfer into a large bowl. Mash.
Add the butter and mash well.
Mix in the milk.
Add the eggs.
Add the salt, nutmeg and vanilla.
Mix in brown.
Once smooth, pour the sweet potato mixture into a casserole dish. Set aside.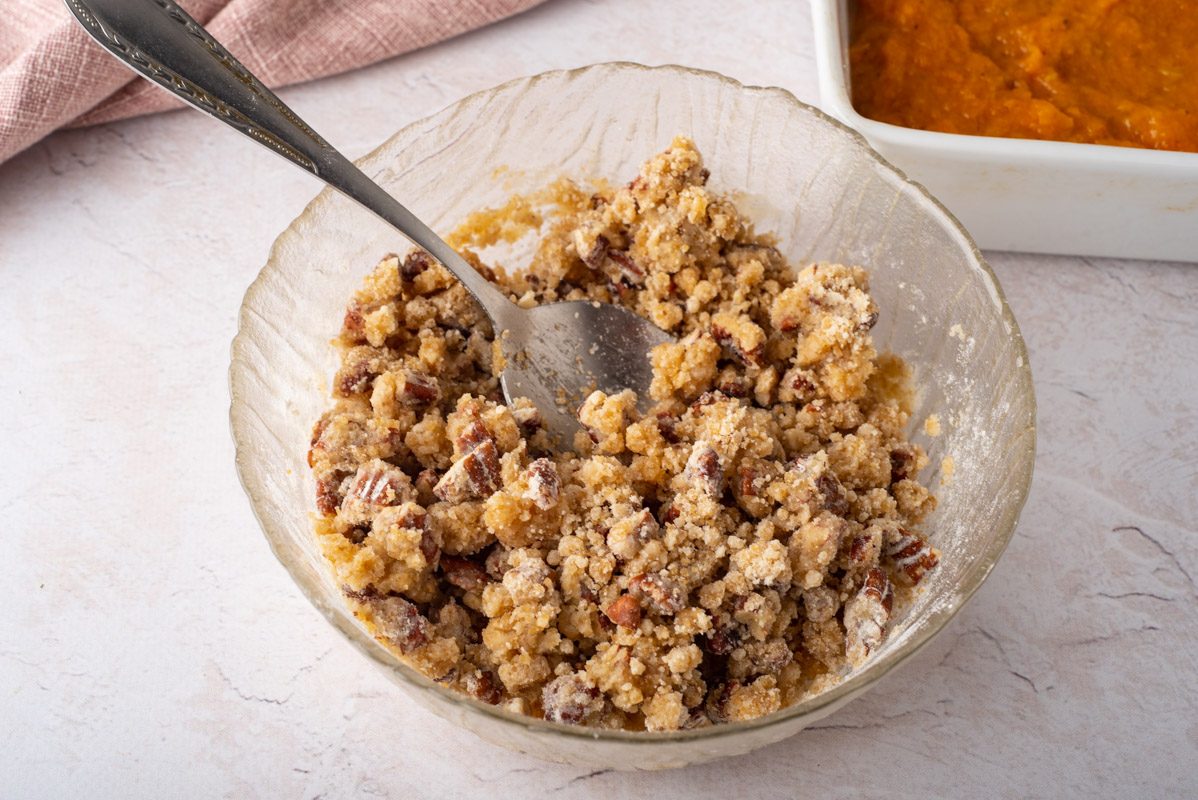 For the topping, combine flour, butter, pecans, brown sugar, and salt in a bowl.
Garnish the casserole with the pecan topping.
Spread the topping evenly.
Bake for 25 minutes, or until the pecan topping turns lightly brown.
Notes
Use an 8×8-inch baking dish for your casserole.