ingredients
ham, bone-in

1 whole 8 to 9 lbs

apricot preserves

1 cup

Honey

1/3 cup

Dijon mustard

2 tbsp

Orange marmalade

1/4 cup
This copycat honey-baked ham recipe is phenomenally flavorful and tastes as delicious as it looks. Tender, juicy ham is cooked in honey and fruit preserves, which generously glazes the ham in a sticky sauce. This beautiful dish is often prepared for holidays like Easter, Christmas, and Thanksgiving thanks to its elegance and the fact it's easy to prepare. If you're looking for a wonderful meal to serve during the holidays or for other special occasions, copycat honey-baked ham is a perfect choice.
How to Make Copycat Honey Baked Ham From Scratch
This honey baked ham recipe is easier than you think. First, score the ham with a knife and place it in a roasting pan. In the meanwhile, you can make the apricot-honey glaze and then brush it. Bake the ham for 15 minutes per pound and check if it's ready from time to time. Before serving, let it rest.
Can I Make Copycat Honey Baked Ham Ahead of Time?
You can easily make your honey-baked ham up to 1 to 2 days ahead of time. Once removed from the oven, let the ham cool, then cover and refrigerate. When you're ready to enjoy it, cover the ham with foil, and reheat it at 275°F for 10 minutes per pound. Brush with the glaze before serving. Copycat honey baked ham can also be served cold.
Tips for Making the Best Copycat Honey Baked Ham
– Use a sharp knife to score the top of the ham. Aim to cut it about 1/3 to ½-inch deep.
– The ham needs about to cook 15 minutes per pound. For an 8 pound ham, that's about 2 hours, however, it may be a little more or a little less depending on your oven.
– Serve your copycat honey-baked ham with a fresh green salad, roasted veggies, cornbread, mashed or scalloped potatoes, or slice leftovers and make tasty sandwiches.
– You can reserve some of the glaze (or make extra) to put on the table for your guests to drizzle over their servings of baked ham.
How to Glaze Copycat Honey Baked Ham
Pour the glaze directly over the ham or use a pastry brush to brush the glaze directly onto the surface.
Copycat Honey Baked Ham Variations To Try
There are so many fantastic honey-baked ham glaze variations to try. Add a little bourbon, rum, or whiskey to the honey glaze, or swap the orange marmalade and apricot preserves for blackberry jam.
How to Store Copycat Honey Baked Ham
Cover the ham with foil or store leftovers in an airtight container in the fridge for up to 8 days. It freezes well for up to 1 month.
Instructions
Preheat your oven to 325°F. Score the ham with a knife, leaving an inch between each cut. Place the scored ham in a roasting pan.
Whisk the apricot preserves, honey, orange marmalade, and Dijon mustard in a bowl.
Brush the ham with half the apricot-honey glaze, then cover with foil.
Bake the ham for 15 minutes per pound. Occasionally baste the ham as it cooks. When the ham has nearly finished cooking, heat the glaze for about 3 minutes over medium heat.
Remove the ham from the oven and brush the ham with the remaining glaze.
Let the ham rest for about 15 minutes.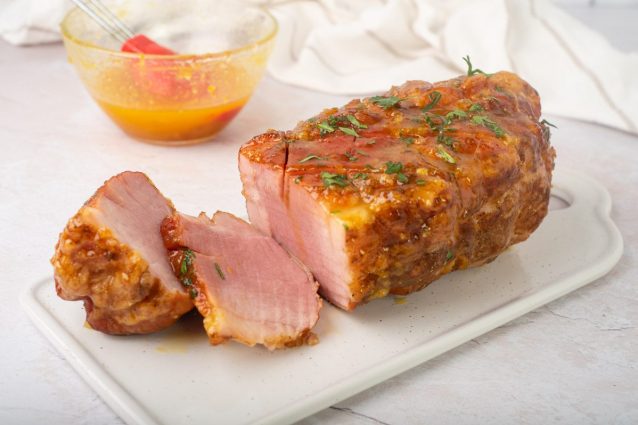 Serve and slice it.
Notes
The internal temperature of a fully-cooked baked ham should reach 145°F. Use an instant-read thermometer to check when it's time to take it out of the oven.